Product Summary
The TIP147 is a silicon Epitaxial-Base NPN power transistor in monolithic Darlington configuration, mounted in TO-218 plastic package. The dvice is intented for use in power linear and switching applications. The TIP147 is suitable for linear and switching industrial equipment.
Parametrics
TIP147 absolute maximum ratings: (1)VCBO, Collector-Base Voltage (IE = 0): 100 V; (2)VCEO, Collector-Emitter Voltage (IB = 0): 100 V; (3)VEBO, Emitter-Base Voltage (IC = 0): 5 V; (4)IC, Collector Current: 10 A; (5)ICM, Collector Peak Current: 20 A; (6)IB, Base Current: 0.5 A; (7)Ptot, Total Dissipation at Tcase ≤ 25℃: 125 W; (8)Tstg, Storage Temperature: -65 to 150℃; (9)Tj, Max. Operating Junction Temperature: 150℃.
Features
TIP147 features: (1)STMicroelectronics preferred salestypes; (2)complementary PNP - NPN devices; (3)monolithic darlington configuration; (4)integrated antiparallel collector-emitter diode.
Diagrams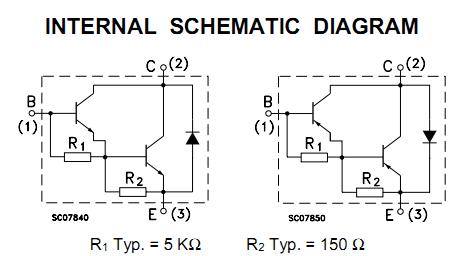 Image
Part No
Mfg
Description
Pricing
(USD)
Quantity

TIP147

STMicroelectronics

Transistors Darlington PNP Power Darlington

Data Sheet



| | |
| --- | --- |
| 0-1: | $0.86 |
| 1-10: | $0.82 |
| 10-100: | $0.74 |
| 100-250: | $0.65 |


TIP147FTU

Fairchild Semiconductor

Transistors Darlington PNP Epitaxial Darl

Data Sheet



| | |
| --- | --- |
| 0-1: | $0.99 |
| 1-25: | $0.79 |
| 25-100: | $0.69 |
| 100-250: | $0.60 |


TIP147G

ON Semiconductor

Transistors Darlington BIP PNP 10A 100V

Data Sheet



| | |
| --- | --- |
| 0-1: | $1.06 |
| 1-25: | $0.97 |
| 25-100: | $0.71 |
| 100-500: | $0.62 |


TIP147-S

Bourns

Transistors Darlington PNP DARLINGTON 100V 10A

Data Sheet

Negotiable

TIP147T

Fairchild Semiconductor

Transistors Darlington PNP Transistor Darlington 100V/10a

Data Sheet



| | |
| --- | --- |
| 0-1: | $0.58 |
| 1-25: | $0.50 |
| 25-100: | $0.47 |
| 100-250: | $0.40 |


TIP147TTU

Fairchild Semiconductor

Transistors Darlington PNP Epitaxial Sil Darl

Data Sheet



| | |
| --- | --- |
| 0-1: | $0.59 |
| 1-25: | $0.52 |
| 25-100: | $0.46 |
| 100-250: | $0.39 |


TIP147P

Other



Data Sheet

Negotiable

TIP147TU

Fairchild Semiconductor

Transistors Darlington PNP Epitaxial Sil Darl

Data Sheet



| | |
| --- | --- |
| 0-1: | $0.80 |
| 1-25: | $0.70 |
| 25-100: | $0.65 |
| 100-250: | $0.56 |