Product Summary
The IRFZ46 Advanced HEXFET Power MOSFET from International Rectifier utilizes advanced processing techniques to achieve extremely low on-resistance per silicon area. This benefit, combined with the fast switching speed and ruggedized the device design that HEXFET power MOSFET IRFZ46 is well known for, provides the designer with an extremely efficient and reliable device for use in a wide variety of applications.
Parametrics
IRFZ46 absolute maximum ratings: (1)ID @ TC = 25℃ Continuous Drain Current, VGS @ 10V: 53 A; (2)ID @ TC = 100℃ Continuous Drain Current, VGS @ 10V: 37 A; (3)IDM Pulsed Drain Current: 180 A; (4)PD @TC = 25℃ Power Dissipation: 107 W; (5)Linear Derating Factor: 0.71 W/℃; (6)Gate-to-Source Voltage: ± 20 V; (7)Avalanche Current: 28 A; (8)Repetitive Avalanche Energy: 11 mJ; (9)Peak Diode Recovery dv/dt: 5.0 V/ns; (10)Operating Junction and Storage Temperature Range: -55 to + 175 ℃; (11)Soldering Temperature, for 10 seconds: 300 (1.6mm from case )℃; (12)Mounting torque, 6-32 or M3 srew: 10 lbf.in (1.1N·m)℃.
Features
IRFZ46 features: (1)Advanced Process Technology; (2)Ultra Low On-Resistance; (3)Dynamic dv/dt Rating; (4)175℃ Operating Temperature; (5)Fast Switching; (6)Fully Avalanche Rated.
Diagrams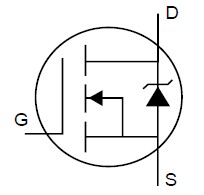 Image
Part No
Mfg
Description
Pricing
(USD)
Quantity

IRFZ46

Vishay/Siliconix

MOSFET N-Chan 60V 50 Amp

Data Sheet

Negotiable

IRFZ46, SiHFZ46

Other



Data Sheet

Negotiable

IRFZ46NLPBF

International Rectifier

MOSFET MOSFT 55V 53A 16.5mOhm 48nC

Data Sheet



| | |
| --- | --- |
| 0-1: | $1.09 |
| 1-25: | $0.70 |
| 25-100: | $0.51 |
| 100-250: | $0.48 |


IRFZ46N

International Rectifier

MOSFET MOSFET, 55V, 46A, 16.5 mOhm, 48 nC Qg, TO-220AB

Data Sheet

Negotiable

IRFZ46L



MOSFET N-CH 50V 50A D2PAK

Data Sheet



IRFZ46NL



MOSFET N-CH 55V 53A TO-262

Data Sheet



IRFZ46NPBF

International Rectifier

MOSFET MOSFT 55V 46A 16.5mOhm 48nC

Data Sheet



| | |
| --- | --- |
| 0-1: | $1.31 |
| 1-25: | $0.85 |
| 25-100: | $0.61 |
| 100-250: | $0.58 |


IRFZ46NSTRLPBF

International Rectifier

MOSFET MOSFT 55V 53A 16.5mOhm 48nC

Data Sheet



| | |
| --- | --- |
| 0-1: | $1.64 |
| 1-25: | $1.07 |
| 25-100: | $0.77 |
| 100-250: | $0.72 |