Product Summary
The 2SC3203 is a silicon NPN transistor. The applications of it include: low frequency power amplifiers; general purpose switching circuits.
Parametrics
2SC3203 absolute maximum ratings: (1)Collector-base voltage VCBO: 35V; (2)Collector-emitter voltage VCEO: 30V; (3)Emitter-base voltage VEBO: 5V; (4)Collector current IC: 800mA; (5)Emitter current IE: -800mA; (6)Collector power dissipation PC: 600mW; (7)Junction temperature Tj: 150℃; (8)Storage temperature range Tstg: -55~150℃.
Features
2SC3203 features: (1)Excellent hFE vs, collector current characteristics; (2)Pc=600mW, Ic=800mA max; (3)VCE(sat)=0.5V max at IC=500mA, IB=20mA; (4)Complementary to the 2SA1271.
Diagrams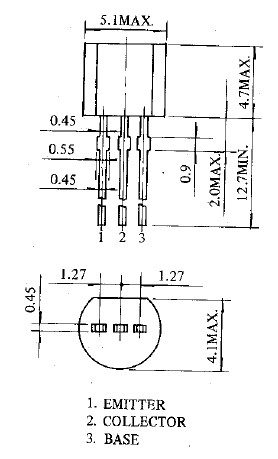 2SC3074-Y(T6L1,NQ)

Toshiba

Transistors Bipolar (BJT) NPN PWR 60V VCBO 50V VCEO 5V VEBO

Data Sheet



| | |
| --- | --- |
| 0-960: | $0.36 |
| 960-1000: | $0.31 |
| 1000-2000: | $0.29 |
| 2000-5000: | $0.25 |


2SC3324GRTE85LF

Toshiba

Transistors Bipolar (BJT) Audio Freq Low Audio Freq Low

Data Sheet



| | |
| --- | --- |
| 0-1: | $0.21 |
| 1-10: | $0.11 |
| 10-100: | $0.09 |
| 100-250: | $0.08 |


2SC3332T

ON Semiconductor

Transistors Bipolar (BJT) BIP NPN 0.7A 160V

Data Sheet



| | |
| --- | --- |
| 0-1: | $0.37 |
| 1-25: | $0.33 |
| 25-100: | $0.29 |
| 100-250: | $0.25 |


2SC3303-Y(T6L1,NQ)

Toshiba

Transistors Bipolar (BJT) NPN VCE 0.4V IC 3A Tstg 1.0 VCEO 80V

Data Sheet



| | |
| --- | --- |
| 0-3000: | $0.04 |
| 3000-8000: | $0.04 |
| 8000-10000: | $0.04 |


2SC3503ESTU

Fairchild Semiconductor

Transistors Bipolar (BJT) NPN 300V 0.1A 7W

Data Sheet

Negotiable

2SC3647S-TD-E

ON Semiconductor

Transistors Bipolar (BJT) BIP NPN 2A 100V

Data Sheet



| | |
| --- | --- |
| 0-1000: | $0.24 |
| 1000-1300: | $0.24 |
| 1300-2000: | $0.21 |
| 2000-5000: | $0.20 |